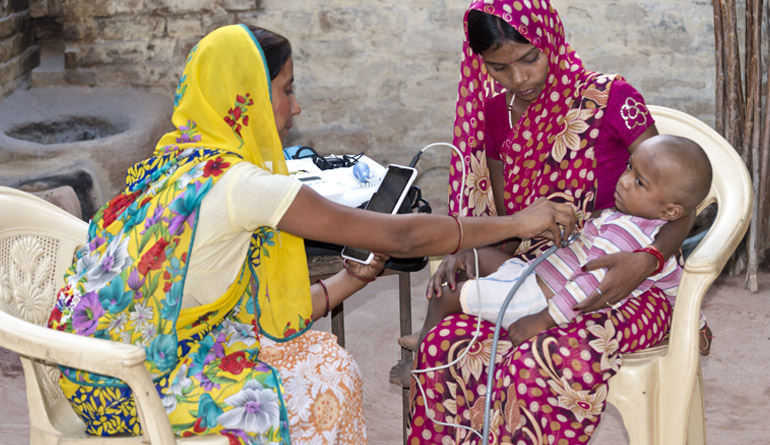 THE PROBLEM IS SIMPLE: PEOPLE IN RURAL COMMUNITIES AND URBAN SLUMS OF DEVELOPING COUNTRIES ARE UNDERSERVED AND STRUGGLE TO GET TIMELY, OFTEN LIFESAVING, HEALTHCARE.
WHP's choice of technologies is conditioned by where they are deployed and who will use them. The rural areas have weak infrastructure and sub-par human resource-they necessitate deploying technologies that require innovative low-resource functionalities with in-built features that provide strong, automated support. Solutions for doctors in cities use their access to modern facilities to enable them handle large caseloads, provide standardised care, and benefit from continued medical updates.
WHP's technology development starts with a blueprint of the entire ecosystem in which technology is used to interconnect all the constituents. WHP has been strongly speaking out against the trend in various quarters of emphasising inter-operability as a primary determinant of technology development because it feels such a focus inevitably results in disparate applications and devices that are deployed first and an effort is made to connect them later. This is a fruitless and costly process flow which also causes enormous delays and confusion in operations.
WHP has evolved from developing all point-of-delivery devices from scratch to building solutions around commonly available mass marketed devices. This approach has many benefits: it saves costs and also keeps the devices up to date since the companies manufacturing them constantly upgrade their products to say relevant in their highly competitive markets. If upgrades have to be done with niche products, the efforts and costs are not commensurate with the results.
WHP initially outsourced its technology development to private companies but later moved the entire responsibility to a special unit within the organisation. This enables the technology team to participate in internal operational discussions which is crucial for the engineers to understand the entire ecosystem of the programme and the human aspects, particularly the characteristics of the end user. This change in approach significantly improved the usability of the solutions and also enabled WHP to constantly improve it on the basis of feedback, a feature which is not easily available when the tasks are outsourced.
WHP's solutions have moved entirely to a browser-based system, and uses open source solutions to keep the operational cost very low.WHP has also used volunteers to resolve operational issues.