CLOSING THE GAPS

IN TB CARE CASCADE BY DEVELOPING AND DEMONSTRATING A MONITORING FRAMEWORK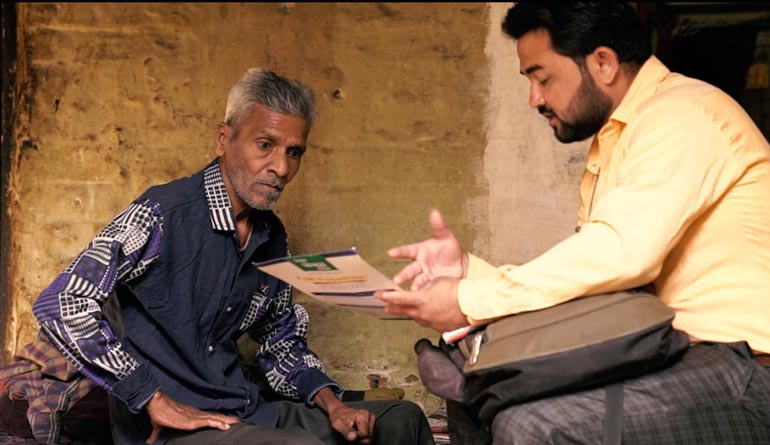 The TB cascade of care estimates that of the 2,640,000 incident TB patients in India, 68% accessed TB tests, 57% were diagnosed with TB, 50% started treatment, 43% completed the treatment and 37% achieved the optimal outcome of one-year recurrence-free survival. Similarly, the MDR-TB cascade of care estimates an incident 124,000 MDR-TB cases in 2019, with a drop-off to 47% accessing TB tests, 19% diagnosed with MDR-TB, 15% registered for MDR TB treatment, 7% achieving treatment success, and 5% achieving recurrence-free survival.
While active TB remains the top priority, WHO modelling suggests that focus on active TB disease alone would have a limited impact on reducing incidence in the future unless latent TB infection with TB preventive treatment (TPT) is adequately addressed. An estimated 354 million people are infected with latent TB in India which comprises of future generation of TB cases. TB preventive treatment (TPT) can reduce rates of progression from infection to active TB disease by 90%, but the implementation of TPT remains a low priority in India with a focus on only certain risk-groups. Only 11% of children < 5 years and 10% of HIV-positive people eligible for TPT started on TPT in 2017. TPT cascades indicates an estimated 6,065,131 individuals intended for screening of which 66.7% received a test result, 43.7% completed a medical evaluation, 35% recommended for TPT, and 18.8% completed TPT.
Care cascades provide a framework to monitor system-level responsiveness to the patient throughout their treatment journey. Although widely used in HIV and other disease surveillance programmes, cascades have only recently been used to evaluate TB care. Still, they remain limited to retrospective research as opposed to routine programme monitoring through a natural set of indicators that the cascade provides. This project is institutionalizing care cascade monitoring at a district level in order to: i) Estimate & visualize patient losses across cascade stages in close to real-time and ii) Rapidly implement interventions and quality improvement (QI) initiatives based on care gaps.
The four-year project supported by USAID is implemented by a consortium led by WHP whose other members include the Indian Institute of Public Health Gandhinagar (IIPHG), Everwell Health Solutions and Harvard Medical School. The total award amount is $8.4 million and is used to execute the project in two districts of Jharkhand (Ranchi & East Singhbhum) and Gujarat (Gandhinagar and Surat). The project will contribute to significant reduction of care cascade gaps while simultaneously strengthening health systems.
Under the Integrated Digital Adherence Technologies (IDAT) activity, patients are currently enrolled in various adherence technologies (99dots and MERM). This is providing useful insights since IDAT implementation is a new area of programming and it is successfully transferred from project THALI to Closing the gaps in TB care cascade success on gauging the strength of health systems to absorb technologies, assessing the capacity of healthcare workers to relate them to patient experience, and building strong linkages between DAT and patient support to sustain the engagement. Lessons from THALI and in continuation with CGC project shows technology adherence information enabled providers to be in direct touch with patients as opposed to ASHAs / DOTS providers. Health care workers were able to effectively assign and counsel patients on appropriate technologies and how to engage with them. Patients did not have to travel or be dependent on someone to report their adherence to treatment.
Under the mental health intervention, more than TB patients have been screened since October 2020 for common mental disorders among TB patients in Surat, Gandhinagar, Ranchi and East Singhbhum, four districts in Gujarat and Jharkhand state. High prevalence of depression among TB patients indicates an urgent need for routine screening. The project is testing out the impact of psychotherapeutic counselling by health workers to improve mental health and to define more patient-centric metrics of care. Mental Health screening tool can be accessed here
Under the long term follow up intervention TB patients with successful treatment outcome have been followed up, of the TB recurrent found among the patients evaluated. As stated in the NTEP guidelines, the TB patients should be followed up after completion of treatment at the end of 6, 12, 18 & 24 months. In the presence of any relevant clinical symptom (e.g., cough), patient should undergo diagnostic work up in the form of clinical evaluation, X-Ray, sputum microscopy, CBNAAT etc. Objective of this intervention is to detect recurrence of TB at the earliest.
So far, patients have accessed free chest X-ray (CXR) services as part of our provider engagement intervention and of them 217 (13.2%) were diagnosed with TB. One of the unique features of this cutting-edge innovation is that once uploaded by the diagnostic centre, app-based reports of the CXR are automatically available with the health care provider, thereby minimizing delays in diagnosis and treatment initiation.
---
WHP welcomes the opportunity to collaborate to implement this commitment.

Partner with Us