GOVERNMENT-FUNDED

TB PROJECT CREATES A NEW MODEL FOR SCALE AND SUSTAINABILITY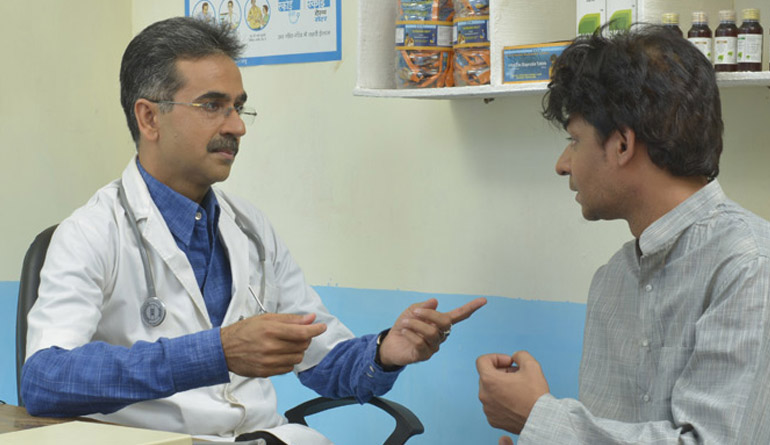 The latest initiative of WHP is under a publically-funded innovation called the Patient Provider Support Agency (PPSA) project. It focuses on implementing TB prevention and treatment interventions with extensive government support thereby marking an important milestone in the health sector for scaled-up, sustainable programming. The PPSA model replicates on a much larger scale the design of the Public Private Interface Agency (PPIA) project which WHP implemented earlier with support from the Bill and Melinda Gates Foundation. The PPIA project demonstrated in one district of Bihar (Patna, 6.5 million population) how integrating various stakeholders through a digital platform could achieve high impact and efficiency. (The good results of the Patna project prompted the central government to expand the model to over 50 locations across the country.)
The Bihar PPSA project, set to begin on April 1, 2020 was delayed due to the COVID-19 pandemic and was officially launched on June 1, 2020. The three-year project aims to treat 147,090 patients but the open-ended provision enables higher impact and earnings if a more efficient implementation is able to generate higher caseloads.
Despite the COVID-19 restrictions under lockdown, it has got off to an encouraging start and delivered notifications against target of until . Field work was disrupted during the first wave of COVID and more seriously during the second wave when many providers fell victim to the virus leading to shutdown of clinics compounded by movement restrictions in the field. The Bihar project has scale since the eight districts that make the project area are home to 36 million population. Amounts reimbursed per case are adequate to meet all operational costs. Similar work has started in two districts of Punjab (Patiala and Amritsar, population 4.4 million) and one of Odisha (Sambalpur, population 1.4 million). The Punjab project is contracted to identify and treat 10,000 cases in two years. Sambalpur district PPSA MOU was signed on June 8, 2021 and aims to diagnose and treat 2400 TB patients over three years.
Since all the projects are born out of a central government initiative, they have a similar design. The implementing agencies are selected through a bidding process in which experienced entities from the commercial and non-profit sectors are awarded the contract for two to five years on a pre-agreed reimbursement amount per case.
The PPSA approach validates WHP's long-held belief that the foundational premise of a scale-up project should be that it is over only when the problem it seeks to address is over. However, most donor-supported projects end when the funding runs out. To remedy this, WHP has been advocating the active participation of the government right from outset of demonstration projects to create ownership which will make transition to a sustainable programme more likely since governments will always maintain interest and allocate resources for such interventions. The PPSA innovation not only attracts government support to strengthen field processes, it also creates an enabling environment for which the government's supplementary support is available for patient welfare.
The financial commitments of the government through PPSA can be significant. In Bihar, for instance, WHP during the three-year tenure will receive Rs 42 crore ($6 million) in direct reimbursement. In addition, the state government will provide, on the basis of inputs from WHP, free medicines and a monthly nutrition allowance to patients, incentives to doctors and their staff, and also underwrite the cost of the highly sophisticated and expensive GenExpert tests. All these will cost an additional Rs 173 crore ($24.85 million) taking the total value of the project to Rs 215.8 crore ($30.85 million) in three years. Similarly in Punjab, WHP during two-year period will receive Rs 2.47 crore ($0.34 million) in direct funding and an additional Rs 7.6 crore ($1.04 million) for patient support and incentives to medical personnel making a total value of Rs.10.07 crore ($1.38 million). In Sambalpur, the corresponding amounts are an estimated Rs.1.1 crore ($130,000) and Rs 1.5 crore ($200,000) totalling to a value of Rs 2.6 crore ($330,000).
In Bihar, where over 80% of the population lives in villages, WHP is setting up special processes to identify and treat patients from rural areas despite difficulties posed by low resources, weak infrastructure and higher levels of poverty. In Punjab too, a significant proportion of the cases is likely to be rural since the project districts have 52% of the population in villages.
Sambalpur district PPSA MOU was signed on June 8, 2021 and with aims to diagnose and treat 2400 TB patients over three years. The implementation of project started from 15th July 2021 and till 20th September 2021, total of 60 providers have been mapped and 64 notifications were done.
These projects will enable WHP to forge a stronger relationship with the state governments on an ongoing basis since it is essential for coordination for timely payments on which the project crucially hinges. WHP is also a member of the sub-group set up by the Central Ministry for revision of national guidelines on partnership with non-governmental organisations in which lessons from the PPSA project has been used to refine the processes.
---
WHP welcomes the opportunity to collaborate to implement this commitment.

Partner with Us