GOPI
GOPALAKRISHNAN
President
Gopi has over 25 years of experience in implementing large-scale service-delivery programs in low-resource settings. He founded Janani, a non-profit entity that at one point accounted for more than 20% of family planning in the state of Bihar and Jharkhand. It has won national and international acclaim for its innovative and creative management that enables the program to serve some of the poorest communities in the world on a sustainable basis. Specializing in public-private partnerships, Gopi is an expert in leveraging private sector resources to complement public sector service provision. He has been a member of India's Population Commission and has advised the Ministry of Health and Family Welfare and numerous national and international organizations on large-scale cost-effective service delivery.
He has also served on the global technical advisory board of the International Finance Corporation, and is currently on the Advisory Group on Community Action (AGCA) of India's National Rural Health Mission and the Global Coalition against Tuberculosis. Gopi was the Director of International Programs of DKT International and received a prestigious civilian honour from the Government of Vietnam for his work as the Country Director of DKT International based in Hanoi. In 2013, Gopi received two prestigious awards for Social Entrepreneurship from the Skoll Foundation and Schwab Foundation. He is also an Ashoka Foundation fellow.
---
BALAKRISHNAN ('BALA') SETHURAMAN
Business Development Advisor
Bala focuses on exploring project or partnership opportunities for WHP with primary focus on Africa. He took on this role in 2015 and brings four decades of experience in varied fields. Starting his career with the Shriram Group in India, an industrial chemicals major, he moved to Unilever in UAE and then on to the media industry as the Head of Circulation of Gulf News in Abu Dhabi. After working for nine years, he moved to Canada where he worked in insurance and electronic industries before returning to Gulf News. Bala currently also serves as an independent business advisor for leading international publications in the MENA region. He holds a bachelor's degree in economics, political science and sociology from Bangalore University and a master's degree in development administration and international marketing management from the American University in Cairo.
---
PRACHI SHUKLA
Country Director, India
Prachi, is WHP's country director for India, based in New Delhi. She oversees all operations in the country and serves as a liaison between the state offices in India, donors, development partners and government. She has over 20 years work experience of leading and managing large social sector programs aimed at improving health of the poor in partnership with communities, government, development agencies and private sector. Her core expertise is in strategy development, establishing innovative service delivery platforms and developing value driven high performing organization culture.
Before WHP, she was a member of the core team that established the Surya Clinic medical network of the Janani program in Bihar and successfully administered it for over three years. She had progressive responsibilities to manage the integration of social franchising components into Janani's mainline programming. She spearheaded special efforts targeting rural clients and the urban poor through a special community outreach. Prachi has also worked with BAIF, a noted development agency working in the areas of micro-credit and animal husbandry, and for Mother Dairy, which brought about the dairy revolution in India. Prachi has a postgraduate degree in industrial relations and personnel management from Bharatiya Vidya Bhawan, Mumbai, and a degree in law.
---
AMITABH SIMON
General Manager - Admin, Procurement & HR
Amitabh provides management oversight to People Department, Administration and Procurement. With over 19 years of extensive experience of working with a wide range of public health projects, public private partnerships, and engaging private sector in HIV/AIDS, Amitabh has nurtured his core strengths that include team building, systems strengthening, and procurement. Amitabh is a Master of Project Management and propelled his career milieu with Janani for over 7 years. Then, he joined WHP and was one of the core members; in 2011, he moved to Population Services International, New Delhi. Amitabh's forte lies in a deep understanding of the functioning of administration and procurement.
---
CHANDRA SHEKHAR JOSHI
General Manager - Field & Operations
Chandrashekhar Joshi is one of WHP's founding members. With over 19 years of experience in the development sector, Chandrashekhar brings expertise in service-delivery programs and currently supervises WHP's programs. Over the past decade, he is leading various projects and his core expertise are project management, field operations, partnership, team management, donor relations, etc. he has vast experience in implementing large projects in health including family planning, maternal and child health, creating a rural network, telemedicine to address primary health and tuberculosis. He began his carrier with Liam Health Care, an urban service-delivery project of DKT International targeting the slums of Delhi and then moved to Janani in Bihar after two years. In both the organizations, his core focus was on setting up clinics, creating outreach networks, supervising commodity procurement & supply chain, and administering the large social franchise network. He also worked with FINO (Financial Information Network & Operation), a well-known rural banking company in Mumbai where he was responsible to engage stakeholders (mainly CBO, CSO) in slums, rural and unreached populations to bring in mainstream of financial services. He has a postgraduate degree in sociology and is currently pursuing a master's degree in public health.
---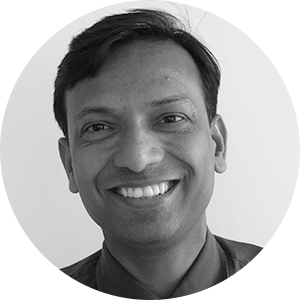 AKHILESH KUMAR SHARMA
General Manager - Operations
Akhilesh is highly motivated health and social impact leader with over 20 years' experience of program development, project management, field operations, team management and administration, known for getting things done on time and on budget. Over the past 10 years, he has served as part of the founding core management team at WHP, operationalizing telemedicine enabled rural networks in India and Kenya focused on maternal and child health, family planning and Tuberculosis. He has a vast experience of implementing large-scale service delivery programs in low-resource settings in rural India and Kenya, with expertise in project operation and management.
He began his career with Janani, a reputed Indian NGO based in Bihar as a field coordinator and was instrumental in expanding Janani's social marketing and social franchising program in Bihar and Jharkhand. He later worked with the public sector on tuberculosis control. His core competency is in social marketing, social franchising, training, program management,family planning and reproductive health, Tuberculosis and HIV/AIDS. Prior to joining WHP, Akhilesh worked with the Saakar Foundation, a Patna-based NGO engaged in the fields of health and awareness. He has a master's degree in social science and MBA in operation and marketing management.
---
KAMAL TALREJA
Senior Manager, Information & Communication Technology
Kamal is responsible for technology integration into WHP's projects, he has 17 years of experience in technological integrations. Prior to joining WHP, Kamal served a similar role at Haier Appliances and the manufacturing unit at Romsons Group in Agra. Kamal has a graduate degree in commerce. He is a CISCO certified network administrator and was a faculty member for the advance computing unit of CDAC responsible for providing computer training to semi-rural population in Uttar Pradesh, India.
---
NITA JHA
Director, Sustainable Interventions
Nita is a public health professional and has more than 20 years of experience in this field. She did her MD in Obstetrics and Gynecology, from Darbhanga Medical College, Bihar and Fellowship from the Indian College of Maternal and Child Health. She has worked extensively in public health, especially family planning, with an emphasis to bring new technologies, demedicalize the provision of clinical services, and set up norms and standards for social franchising. Prior to joining WHP, she was working as General Manager in Janani, a nonprofit organization providing family planning and comprehensive abortion care services, where she was heading the Reproductive Health Project with major focus on family planning and abortion care services.
After working for 11 years in Janani, she joined Jhpiego as State Program Manager, leading the project on postpartum family planning services in Bihar. She worked for two years on strengthening family planning services in Bihar in close collaboration with the Bihar Government. In January 2012, she joined the DFID funded project with Futures Group for improving access to family planning and reproductive health services in Bihar. She was heading the team of 160 personnel in Bihar with a consortium of partners, including HLFPPT, PHFI, and JHUCCP.
---
SIRISHA PAPINENI
Deputy Program Analyst, Monitoring & Evaluation
Sirisha Papineni currently works as a Program Analyst in the Monitoring and Evaluation department of WHP and has experience in operational research, impact evaluation, and implementation. She previously worked as a Research Manager at IFMR-JPAL on randomized controlled trials across sectors of public health, agriculture, microfinance, and financial literacy. She was a Program Manager and Analyst for a pilot with FORGE-UNHCR to improve agricultural productivity in Meheba, Zambia; and for a pilot with WHP on improving the quality of TB care in Bihar, India. Sirisha holds a degree in Biomedical Sciences and Public Health from Northwestern University in the US.